FSX INC. SIGNS EXCLUSIVE CONTRACT WITH RAVHD FOR "FSX TRAPTRACKER" A DPF TRACKING SYSTEM
JANUARY 17, 2018 – LOS ANGELES CALIFORNIA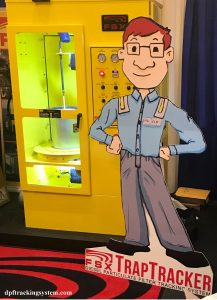 FSX's TrapTracker and Pete Trap to debut at The Mirage Las Vegas, Nevada during HDAW, Heavy Duty Aftermarket Week, January 22-25 2018. FSX Inc, a HDAW exhibitor and a Granite Falls, Washington corporation is the national leader in diesel particulate filter (DPF) cleaning technology and machinery. FSX's TrapTracker is powered by FSX technology and developed by RAVHD. FSX's TrapTracker is a new diesel particulate filter tracking software system and it is paperless which means no more forms to fill out.
FSX's TrapTracker has been licensed exclusively by FSX from RAVHD, a young company located in Wilmington, California. FSX's TrapTracker features a fiery red headed character named Pete Trap. Pete Trap serves as the DPF cleaner's assistant and guide throughout the FSX TrapTracker DPF tracking process. Pete Trap and FSX's TrapTracker are anticipated to be standouts during the HDAW Vegas event.
Over the past year, RAVHD's DPF tracking software has been successfully released at multiple locations from Wilmington to FSX's corporate cleaning facility in Granite Falls according to RAVHD's CEO, Fernando Varela. TrapTracker was developed and customized exclusively for FSX by an I.T. team led by Mitch Ward. Elena Varela a DPF cleaning specialist and FSX equipment cleaning expert was also an integral member of the design and implementation team.
The "partnership" agreement signed by Cole Waldo, FSX's CEO, indicates FSX TrapTracker will be offered as a download with subscription services and includes global access to a web-based SQL database of cleaning information. Mr. Varela expects a significant global demand for the FSX TrapTracker Diesel Particulate Filter Tracking System. Mr. Varela said an accurate and paperless companion to FSX's equipment was essential to efficiently identify "red" "orange" or "green" tagged DPF filter cleaning conditions. Following its release, the Diesel Particulate Filter Tracking System "exceeded all expectations in accomplishing these efficiency goals." Mr. Varela concluded, "we know our Diesel Particulate Filter Tracking System will improve the DPF cleaning process and environment, not just here in the United States, but globally. RAVHD will do all it can to reach that aim and we'll do it all paperless. Nice!"
FSX Inc. will display FSX TrapTracker and its DPF cleaning equipment TrapBlaster at its HDAW booth number 2203, January 22 – January 25, 2018 at The Mirage Hotel, 3400 S. Las Vegas Blvd, Las Vegas Nevada 89109.
For RAVHD corporate inquiries please send emails here: info@dpftrackingsystem.com
RAVHD 1507 East Anaheim Street, Wilmington, CA 90744 http://www.dpftrackingsystem.com
Full press release here: FSX-RAVHD-DieselParticulateFilterTrackingSystem-PRESS RELEASE-20180117
For FSX Inc. corporate inquiries please visit: http://www.fsxinc.com