[Los Angeles]
FSX TRAPTRACKER and Pete Trap to Appear at ATA's Technology & Maintenance Council (TMC), Georgia World Congress Center, Atlanta Georgia, March 5 – 8, 2018
FSX Inc.'s TRAPTRACKER is a paperless diesel particulate filter tracking software system. FSX TRAPTRACKER and its internal DPF cleaning character and assistant, Pete Trap, will be on showcase in Atlanta at TMC, a conference highlighting the best in technology for the heavy duty automotive industry. FSX Inc. initially debuted FSX TRAPTRACKER at HDAW (Heavy Duty Aftermarket Week 2018 Las Vegas) where the FSX TRAPTRACKER DPF tracking system received high acclaim. FSX Inc. is the global leader in DPF cleaning hardware and technology and has partnered in an exclusive license and distribution agreement with RAVHD, the developer of FSX TRAPTRACKER.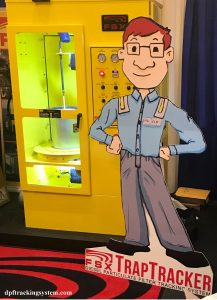 FSX TRAPTRACKER eliminates the need for paper forms and provides DPF cleaners with the ability to precisely enter DPF conditions and measurements, gathered during the DPF cleaning process, directly into FSX TRAPTRACKER's globally accessible database. FSX TRAPTRACKER can be conveniently deployed on handheld iPad tablets anywhere in the world.
RAVHD is a Southern California software developer and parts distribution company and RAVHD will be attending TMC as part of its ongoing business partnership with FSX Inc. RAVHD's CEO Fernando Varela announced that he is "eager" to see FSX TRAPTRACKER shown to another national audience "after the powerfully positive responses FSX TRAPTRACKER and Pete Trap received at HDAW. We can't wait to get to TMC and Atlanta."
FSX TRAPTRACKER is powered by FSX technology and this means FSX TRAPTRACKER will undoubtedly be an instant leader in the DPF software tracking industry.
FSX Inc.'s acquisition of FSX TRAPTRACKER, a highly anticipated and sought after smart application package, shows FSX Inc's commitment to remain the leader of DPF cleaning technology with both hardware and now software. FSX Inc. views FSX TRAPTRACKER as another new DPF cleaning and tracking tool which will reinforce FSX Inc.'s global and innovative leadership in diesel particulate filter cleaning technology well into the 21st Century.
FSX Inc., is headquartered in Granite Falls Washington and can be found on the web here: FSX INC. . RAVHD is located in Wilmington California and can be found on the web here: RAVHDUSA.com.
A PDF downloadable version of this press release is located below.
FSX TRAPTRACKER, PETE TRAP at TMC