[Los Angeles – June 19, 2018 – Press Release]
FSX TrapTracker proves itself to be a powerful digital assistant and tracking tool for Cheltenham Transportation LLC's DPF cleaning department. Cheltenham Transportation is contracted by the Cheltenham Philadelphia School District to provide transportation of students in accordance with Pennsylvania State regulations and Cheltenham School District's policies. Cheltenham Transportation must ensure a safe, dependable, and efficient ride to and from school for students. The company indicates "your children's safety is our business". Cheltenham Transportation has begun using FSX TrapTracker to ensure its mechanics are equipped with a smart tool that will maintain the dependability and efficiency of its Diesel Particulate Filters in its fleet of 150 school buses – the "newest in the Greater Philadelphia area".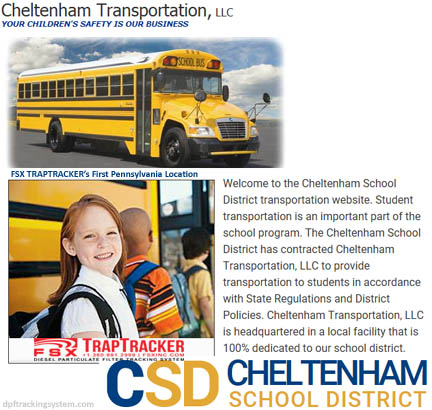 FSX TrapTracker is a handheld device iPad-based software app which is powered by FSX technology and developed by RAVHD, a Wilmington California company. RAVHD has exclusively licensed FSX TrapTracker to FSX Inc. of Granite Falls Washington. FSX is the global leader in DPF cleaning hardware and technology. RAVHD developed the FSX TrapTracker digital worksheet and cleaning app as a companion for use with FSX Inc's Diesel Particulate Filter cleaning equipment. FSX TrapTracker was incorporated into Cheltenham Transportation LLC's immediate DPF cleaning plans by Sean Konzman, Cheltenham Transportation.