[Los Angeles – June 25, 2018 – Press Release]
FSX TrapTracker, Diesel Particulate Filter Tracking System, is now installed at Inland Kenworth, a North American giant and dealership of high quality trucks. Inland Kenworth's Chris Gibbs, Service Manager, Carson California, has authorized the use of FSX TrapTracker after viewing the "impressive" system-generated digital worksheet, wireless worksheet printing, easy step-by-step tracking of the DPF cleaning process and so many other cataloging and smart features displayed during a demonstration by the FSX TrapTracker team.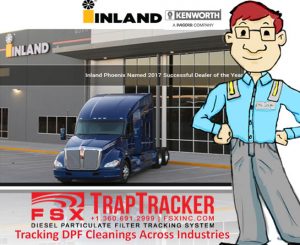 Inland Kenworth is "equipped to help your fleet of vehicles meet standards such as the ones regulated by the California Air Resources Board (CARB) restricting the amount of nitrogen oxides (NOx) and diesel particulate matter (PM)," per Inland's corporate website. FSX TrapTracker will now be used as part of Inland Kenworth's arsenal of smart applications that help Inland Kenworth increase its vehicles' fuel efficiency, reduce fuel costs, continue to meet regulatory compliances, as well as reduce the "carbon footprint" of vehicles it sells and services.
FSX TrapTracker is powered by FSX technology and developed by RAVHD. Websites: Inland Kenworth, FSX Inc., RAVHD