[PRESS RELEASE – LOS ANGELES JULY 10, 2018]
E-W Truck & Equipment Co. of San Diego California (Volvo Trucks North America)deploys FSX TrapTracker in its DPF cleaning service department of highly trained and technologically savvy employees. E-W Truck & Equipment Co. is an AUTOCAR franchise owner and Southern California dealership for 65 years of heavy duty truck and equipment sales. E-W Truck & Equipment Co.'s truck and equipment lines includes Volvo, Western Star Trucks, Cherokee Trailers, Aztec Trailers and GMC trucks. FSX TrapTracker was commissioned for use at E-W Truck & Equipment Co. by Bill Niklaus, Service Manager.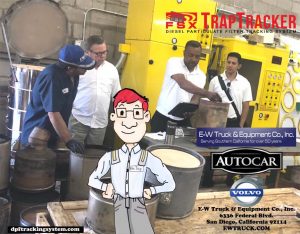 FSX TrapTracker is developed by RAVHD and powered by FSX Technology and TrapTracker is rapidly growing as the DPF tracking and digital tool of choice for FSX DPF cleaning equipment service managers across the United States including Pennsylvania, Montana, Texas and California.