[LOS ANGELES – FOR IMMEDIATE RELEASE – AUGUST 22, 2020]
"For more than 60 years, TMC's member-driven Recommended Maintenance and Engineering Practices have been setting the standards that help trucking companies specify and maintain their fleets more effectively." This year's TMC fall annual meeting, because of Covid-19, has gone totally virtual. 2020's theme is Reliable Answers for Uncertain Times. DPFTRAC, Diesel Particulate Filter Tracking System, has been chosen as part of this year's "new technology presentation" feature.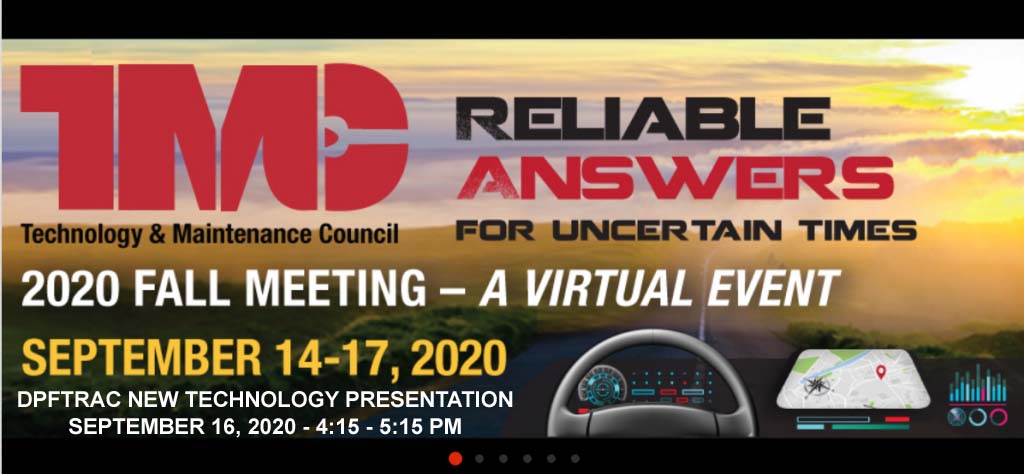 It is appropriate DPFTRAC was chosen this year because the DPFTRAC software has significantly reduced the amount of direct face to face interaction needed between the DPF owner, the DPF technician, and management. No more messy DPF cleaning forms to share. DPFTRAC electronically accepts DPF observed data (PIN testing, visual inspection, weight, etc) as input from the DPF technician during a cleaning. DPFTRAC then process the entered DPF part number information using its vast built-in database of pressure ranges which are used to determine if a DPF is red tagged (condemned), green tagged (good for production) or orange tagged (acceptable for production). Once the DPF technician has used DPFTRAC to complete the cleaning process, he can use DPFTRAC to email the cleaning history worksheet (PDF), text message the customer a work order's detail, or print DPFTRAC's completed documents (wirelessly). All of these can be produced without ever having to directly interact with another individual. DPFTRAC provides a high degree of DPF cleaning proficiency and accuracy – all with social distancing.
On September 16, 2020 between 4:15 – 5:15 PM ET, DPFTRAC team members will demonstrate the DPFTRAC software application, the world's first DPF cleaning and tracking program designed for the heavy duty trucking industry. Click here to visit TMC for the event's registration (https://events.atabusinesssolutions.com/tmcfall/). Some information shown on this page obtained from TMC.