Surface Cracks       Truckers Reduce Downtime Save Money
In 2010 TruckNews.com described "a DPF DILEMMA…SURFACE CRACKS" (see article below). Today the Diesel Particulate Filter Cleaning and Tracking System (DPFTRAC) can identify and flag surface cracks during its 5 phase FSX DPF equipment cleaning process.
Author: jmenzies@trucknews.com
In a previous edition of Hooked Up, I discussed diesel particulate filter (DPF) cleaning options for fleets and owner/operators. Since then, more information has come to light that may be of concern to fleets. Bison Transport has purchased three of the popular FSX DPF cleaning machines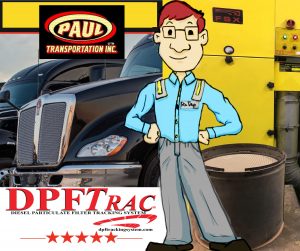 for its terminals in Winnipeg, Calgary and Mississauga and has since pulled dozens of filters for cleaning. Director of fleet assets Itamar Levine told me the other day the company has made some alarming discoveries.
To Itamar's dismay, about a third of the DPFs Bison has cleaned so far have hairline cracks along the filter core. Initially, the company began replacing those cores but at a cost of nearly $2,000 a pop, it was no longer feasible to do so. Since they're no longer covered by warranty, Itamar says Bison has had little choice but to put those filters back on their trucks. "I've installed dozens of cracked DPF filters back onto my tractors, which may not be the right thing to do as far as having the system do what it's supposed to do and clean the air," he said.
Itamar is convinced the cracking was the result of overheating, caused by specific events such as the many EGR valve failures that plagued early generation EPA07 engines. He's sure the fleet itself did nothing to damage the filters and he'd like to see more accountability from the suppliers. "We can't do anything to make that filter crack by the way we operate the truck," he said. "This whole issue is really puzzling to us. The frustrating part is I seem to be the only guy who's having this problem, according to the OEs. It's definitely not something just Bison Transport is going to see. This is something we're going to hear a lot of talk about six months down the road or a year down the road." If you run a lot of EPA07 engines, it may be worth pulling those DPFs sooner than you were planning on, to see if you have a problem on your hands.